Microsoft is constantly looking for the vanguard. That's why it's testing a new feature for Windows 10 that promises. Soon users will be able to interact with the system by voice. Particularly with the files and search engines of the computer.
The tests of this function began in september. Basically the novelty consists in the use of voice in the text fields. In this way, it would not be necessary to type but to dictate what you want to search. In tools such as the file searcher this function is highly useful.
How would it work?
First, the user grants new permissions to Windows. Specifically the activation of speech recognition. This option can be chosen in configuration in the Voice section. Also by pressing Windows+H combination. Later, in the text spaces a widget will appear. With it you can manage the function of using voice command.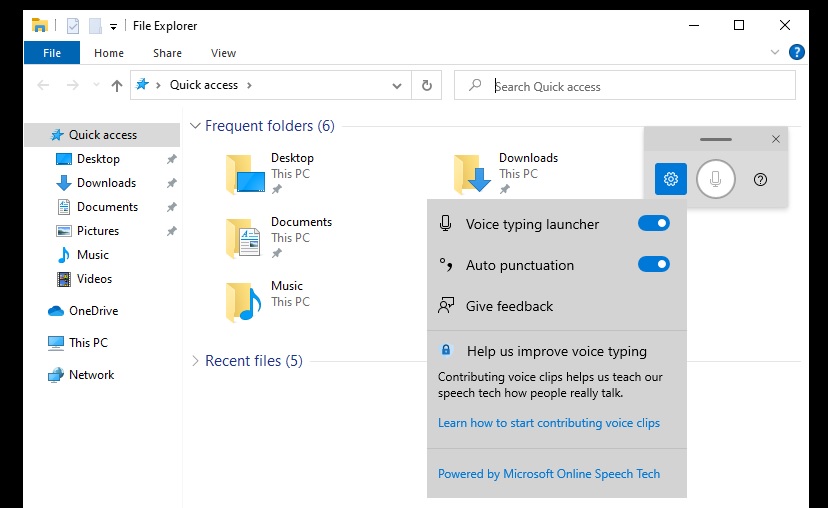 New voice command functions
Certainly, the use of voice commands is an existing function. However, this update would mean an optimization of that function. Because it includes interesting features. Especially 2 stand out:
With this option the system will place punctuation marks on the text. Only using the intonation of the user's voice. Goodbye to meaningless and badly written texts. Commas, dots, and following will appear automatically.
Another novelty that stands out is the search by means of the voice in a more precise way
More permits
Despite the attractiveness of this feature, it has its disadvantages. Particularly with the option of more precise searches. Because building this tool would mean greater Windows access to user data. However, the Redmond people are committed to user confidence.
"Your everyday use of voice typing could make Microsoft's online speech tech more accurate for everyone who speaks your language. If you decide to contribute your voice clips, some of these clips will be reviewed by Microsoft employees and vendors,"

Windows Team
It is expected that this novelty will be available soon in more devices. Currently the option is available in some languages and regions. For example, English, German, Spanish, Portuguese and Mandarin. Also, in countries like the United States, Brazil, France, United Kingdom and India. Also, it will probably arrive definitely with the next big update of Windows 10.