Linux Mint is the third favorite distribution for users. Also, this distro is always based on the latest LTS versions of Ubuntu. With the objective to guarantee that the operating system is totally stable and to guarantee support for a long duration. Likewise, Linux Mint releases a new version every six months, just like Ubuntu. Thanks to these, Linux Mint distributions have a one and a half year guarantee. On the other hand, in the middle of last year, the developers launched one of the most ambitious versions of this Linux. Linux Mint 20.0 "Ulyana" which promised to face Ubuntu, then six months later, comes the first update of the Linux Mint 20.1 "Ulyssa" distro.
On the other hand, Ulyssa is the name given to the first update of version 20. It is not a big update as version 20.0 was. However, the developers present a quite important update, where it incorporates a series of moderate changes and a lot of corrections and optimization.
To know more about, the news that brought the version 20.0. I invite you to read es post of Linux Mint 20.0
Also, this distribution comes by default with a Cinnamon desktop, however, the user can choose to install others, such as Xfce or MATE.
Linux Mint 20.1 Features
Users should note that the first update is based on Ubuntu 20.04 LTS. This way, the user will find the main corrections and improvements incorporated by Canonical in the first revision of its last LTS.
Also, this new update incorporates by default the Linux Kernel 5.4, a rather old version of the kernel. However, developers have promised a separate ISO with the 5.8 Linux kernel for those with newer hardware.
On the other hand, the new incorporation is Hypnotix, a new program that is natively part of Linux. It is an IPTV player for M3U playlists, supporting live TV. It also includes a VOH section, where Hypnotix allows to watch movies, even TV series. Finally, by default, Hypnotix comes with a free IPTV provider called Free-IPTV. This provider only provides live TV channels that are available for free and public viewing.
On many occasions, it is necessary to access the same files, to remind us where they are stored. Slowly we come to use the file manager, to mark the folder that contains them to arrive faster.
Now in Linux Mint 20.1, if the user works with the same file frequently. Just select and right-click and select "add to favorites".
Also, you'll see a little star pop up in your panel. That's where all favorite files are, just one click away. You'll also find them in your application menu. The file manager now also has a dedicated section, where you can access but also manage your favorites.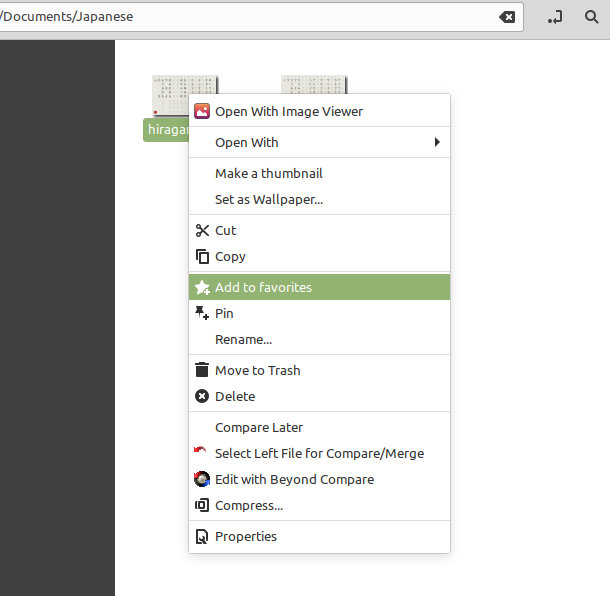 On the other hand, the latest version of Cinnamon features improved performance, including a 5% rendering improvement in 4K. In addition to less use in its window management and a faster Javascript interpreter based on MozJS78.
On the other hand, it includes improvements in XApps. Where the clock format in Slick Greeter (the login screen) is now configurable.
Similarly, Xed can now automatically close brackets when used to edit source code. Also, Xviewer, the behaviors of the primary and secondary mouse wheels (tilt) are now configurable.
On the other hand, another interesting change is that Compiz makes a reappearance. Now allowing to activate all kinds of effects on our desktop and all windows. An excellent layer of customization that could not be missing in this Linux.
For more information about Linux Mint 20.1 click here.
Conclusion
The new update is not of great news, but the additions are helpful so that users get the most stability.
On the other hand, they have fixed a lot of bugs, to make Linux Mint more stable and faster than ever.
Finally, the first update will take place with 20.2 and 29.3 in September and December of this year.